I am sitting in Starbucks this morning in a suit.  A suit!  I never wear a suit.  I live in San Francisco and work in Berkeley.  When you wear a suit in either of these places – even as a gay man – you look like an alien from another planet.
But today is different.  Well, tonight is different.  

Tonight I'm going to join some of the other members of Left Coast Theatre Co. to attend the first-ever Theatre Bay Area Awards.  For those of you who aren't familiar with our part of the world, Theatre Bay Area is our major theater service organization, the awards are like the Tonys and LCTC is the theatre company I've been performing with and writing for for the past few years.  LCTC is also nominated in the category of Best Anthology – hence my anticipation and my suit.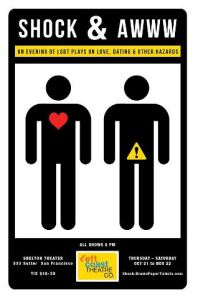 I don't know what to expect from tonight.  The ceremony is being held at the Geary Theater, home of American Conservatory Theater, so it's going to be chichi.  We're not sure if there's going to be an actual red carpet, though, so I'm not expectations get grandiose.
But I am excited.  For a small company like ours this is a step into the big – or bigger – time.  If we win, it'll be a major coup and give us a whole new level of recognition.  If you hear a painfully high-pitched shriek of pleasure coming from the general direction of San Francisco tonight, that'll be our Executive Director, Rodney "Rhoda" Taylor and you'll know we won.  After that, fasten your seatbelts.  It's going to be a loud night.
Still, I'm not letting myself get too excited yet.  My fingers are crossed and if I were a praying man, I would have done that quite a few times by now.  Outwardly, though, I'm remaining very, very calm.  If you saw me today, you might not even know it was a special day.
Except for the suit.  And I look awesome in the suit.